Now you can create the Print Page for your document.

Clicking this button will use your design, content, and metadata to generate the Print Page. After that's done, a button to view the Print Page will appear.
The Print Page is where Print My Blog does the final touch-ups before downloading the PDF file (specifically, it executes Javascript.)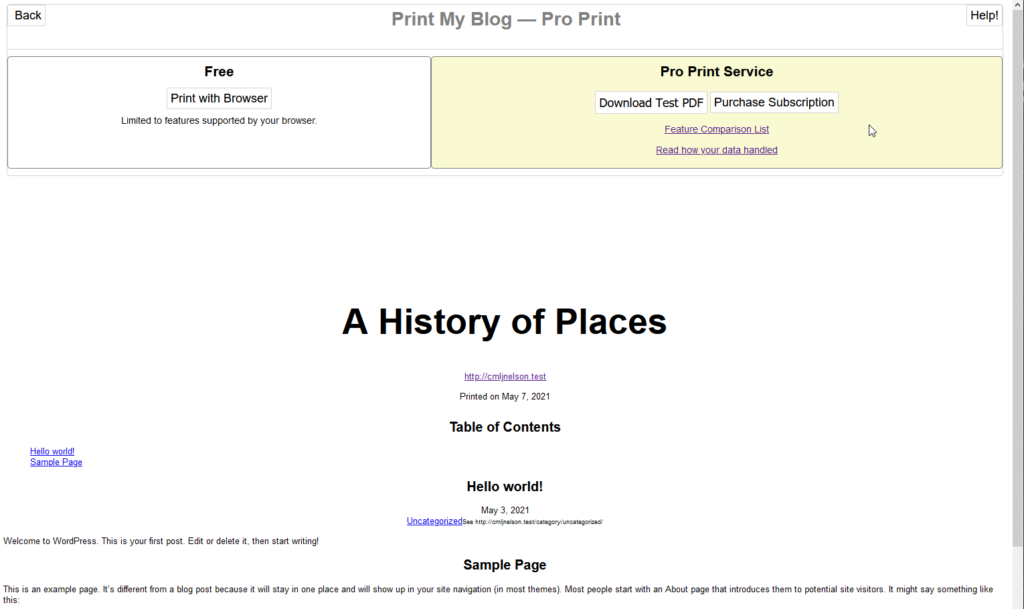 At the top of the Print Page are several actions, and below them is the project's content, ready to be sent for printing.
The buttons available are:
Print with Browser which will use your browser to print or create a PDF. Browsers don't support all of the features Pro Print is capable of, but it's free
Download Test PDF will create a PDF using our Pro Print Service, but it will have watermarks on it. It's free to use and requires no signup, and is a good way to get a preview of your document before spending any money
Purchase Subscription will take you to the payment page so you can use the Pro Print Service and Print My Blog Pro. After you have upgraded, this will be replaced with a button to Download Paid PDF which will be identical to the Test PDF but without the watermarks
Back button in the top-left takes you back to the generate page
Help! takes you to the help page
Before you generate the paid PDF, you'll probably notice a couple things you want to change.