Once you're happy with the watermarked preview PDF, to generate a PDF with no watermark you'll need to purchase a license to PMB Pro.
For that, from anywhere in the WordPress admin dashboard, under "Print My Blog" click either "Upgrade" or "Pricing". Select the plan that works for you and make the purchase (you can do it all from within your WordPress website via a payment system called Freemius).
After you've purchased a license, return to your project's "Generate Print Page" step and click to view the Print Page.
On the Print Page, you will need to download the Test PDF first again, and check for any problems. After downloading the Test PDF, the button to download the Paid PDF will become usable. The Paid PDF should look identical to the Test PDF except without the watermarks on each page.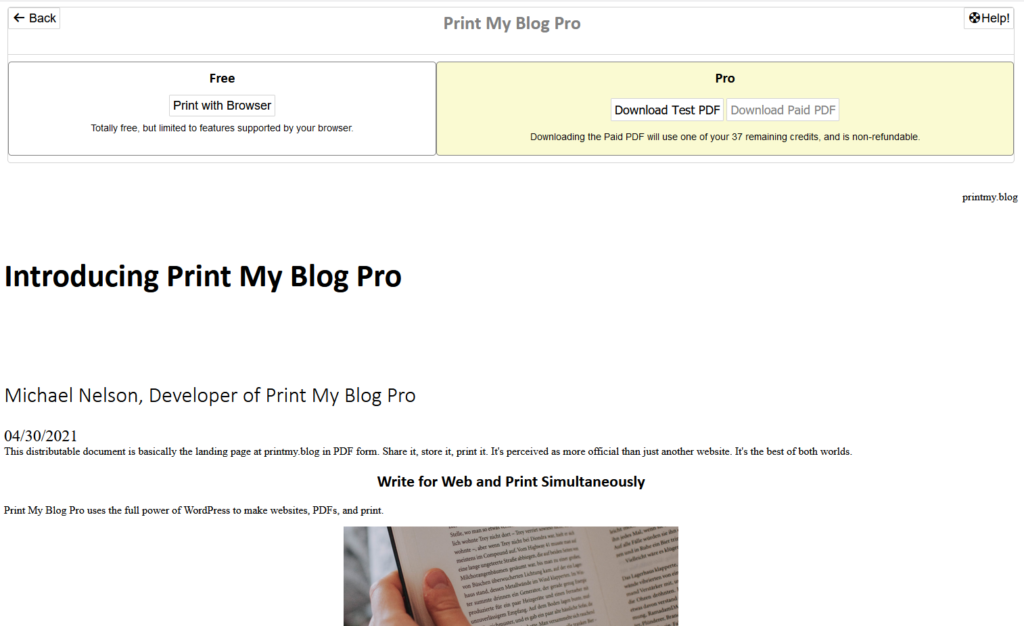 When you download the Paid PDF it will immediately deduct towards your monthly credits, and is non-refundable (which is why it's better to check for problems in the Test PDF).
If you run out of Paid PDF credits in a month and have a yearly license, just contact us and we can give you a one-time increase in credits. But if you're regularly reaching your limit you should consider upgrading to another plan.