In order to generate the Paid PDFs, ePub eBooks, Word Documents, and a few other features, you'll need:
Download the Pro version of Print My Blog
Purchase a license key
And activate both on your website. Here are instructions on how to do both of those.
To purchase a license, from anywhere in the WordPress admin dashboard, under "Print My Blog" click "Upgrade."
Select the plan that works for you and make the purchase (you can do it all from within your WordPress website via a payment system called Freemius).
Although the payment page appears to be on your WordPress website, it is actually securely communicating with Freemius, a service that handles purchases of PMB licenses.
Uninstaling PMB (free) and Installing PMB Pro
After the payment process is completed, Freemius will give you instructions on how to switch from the free version of PMB on WordPress.org ("Print My Blog") to the paid version distributed by Freemius ("Print My Blog Pro").
Download the plugin
After purchasing a license for Print My Blog Pro, you will be sent 2 emails. The first will provide you with a link to download the plugin, along with your license key.
The second email, which you'll receive after the payment is successfully processed, will provide a receipt, as well as a secure link to download your PDF invoice.
Before downloading the product, if you are using Apple's Safari as your browser, disable its default ZIP auto extraction setting:
Upload the Print My Blog Pro Zip File to WordPress
Now that you've downloaded the Print My Blog Pro zip file, you are ready to upload it to your WordPress website. To do that
visit your website's admin dashboard
click on "Plugins" menu on the left
click "Add New" button (towards the top-left)
click "Upload Plugin" (again, towards the top-left)
click "Browse…" and locate the zip file (you probably downloaded it to your "Downloads" folder), or drag the zip file over the upload area
click "Install Now"
once installed, click "Activate"
Activate the product with your License Key
If you've purchased the plugin directly within the WP Admin dashboard you are already good to go since the license key is automatically activated right after the upgrade. Otherwise, after activating the product, you will be redirected to a license activation screen.
Simply enter the key provided in your email and click "Agree and Activate License". Print My Blog Pro will now be activated and you'll be ready to start using it.
If you somehow didn't activate the license during plugin activation as described above, and need to activate it later,
go to your WP admin
then the plugins page
scroll down to Print My Blog
under it click "Activate License"
enter the license key
click Agree and Activate License
Generating Paid PDFs
After you've purchased a license, installed Print My Blog Pro, and entered your license key, return to your project's "Generate Print Page" step and click to view the Print Page.
On the Print Page, you will need to download the Test PDF first again, and check for any problems. After downloading the Test PDF, the button to download the Paid PDF will become usable. The Paid PDF should look identical to the Test PDF except without the watermarks on each page.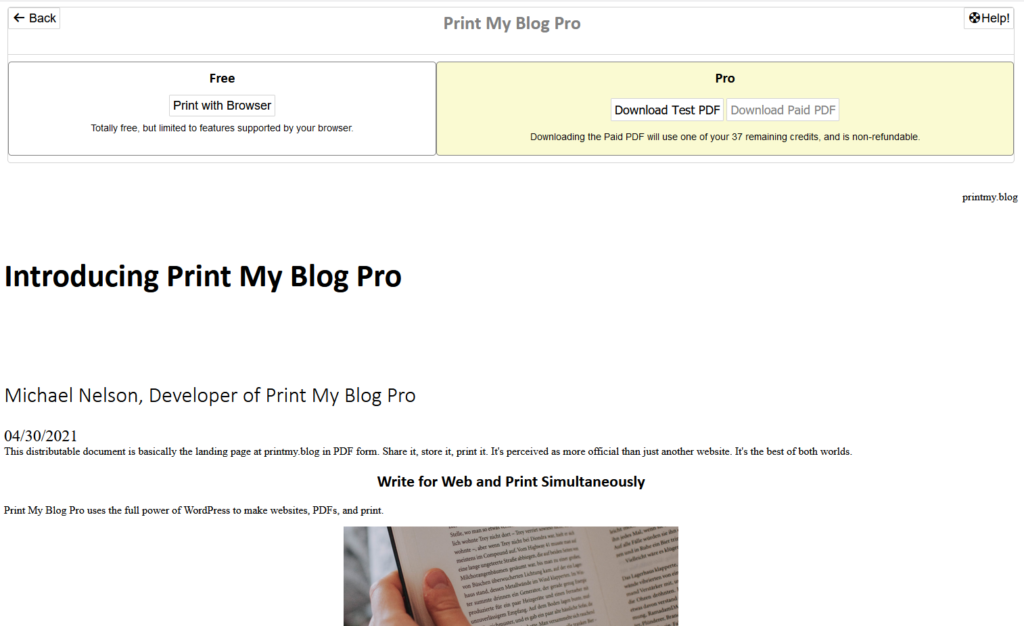 When you download the Paid PDF it will immediately deduct towards your monthly credits, and is non-refundable (which is why it's better to check for problems in the Test PDF).
If you run out of Paid PDF credits in a month and have a yearly license, just contact us and we can give you a one-time increase in credits. But if you're regularly reaching your limit you should consider upgrading to another plan.
And again, ePub eBooks have no monthly download limit. If you have a current license, you can download as many ePubs as you'd like.