This is where you finally choose what posts, pages, and custom post types (CPTs) will go into your project.
Under "Select Content", in the first column, there are search filters, allow you to search for content based on its name, post type, status, and other criteria. Matching content appears in the second column.
Drag the content from that second column into the third column, "Project Content", wherever you'd like it to appear.
You can place it into your project's "Front Matter" (usually this is content about the book, like a title page, table of contents, and title page, often numbered with roman numerals or no numbering at all), "Main Matter" (the main chapters or articles of a book), and "Back Matter" (more extraneous content like an "About the Author" or "Other Books by the Author"). In order to keep things simple, some designs might not include all these divisions.
Most designs also support dividing the "Main Matter" into "parts". Eg a novel could have "Part 1" and "Part 2", or a textbook could have "Physics" and "Astronomy" parts. Designs can style parts differently in the generated file, and in the table of contents.
To create a part, just add content below-and-to-the-right of an article in your project. The top-level article is now a part heading, and everything nested below-and-to-the-right of it is now a part.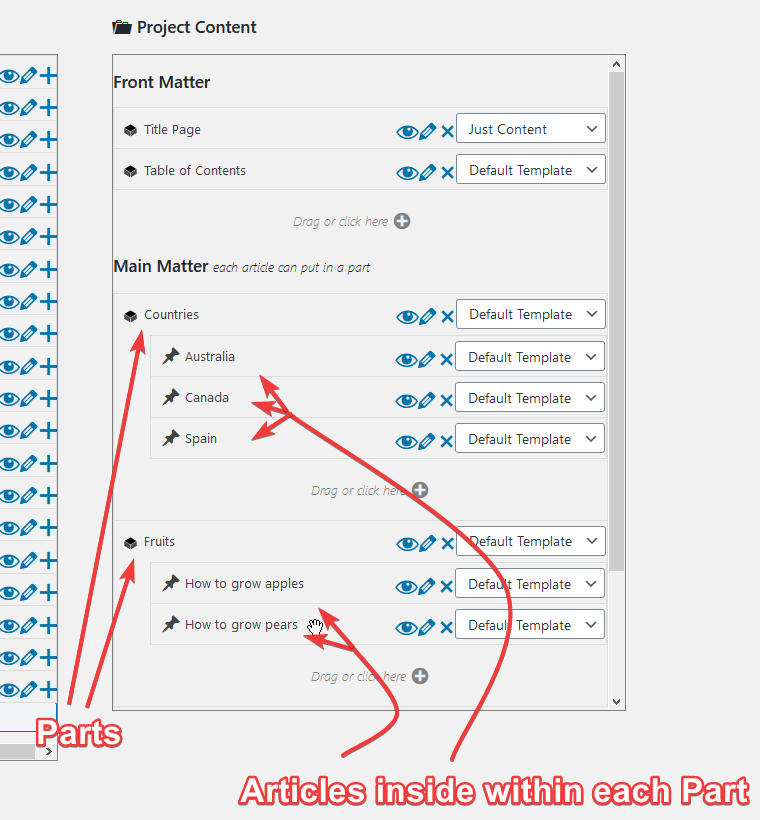 In addition to dragging existing posts, pages, and custom post types into a project, create new "Print Materials" (a special type of post used only in PMB projects) by clicking anywhere it says "Drag or click here +".
New Print Materials like this are initially created with only a title (which might be all you want, in case that Print Material will just be a part heading), but you can click the row's pencil button to edit the content in another window.
When you've finished organizing the content, click "Save".