This is the 29th monthly report for Print My Blog (PMB) WordPress plugin.
What Happened This Month
Plugin Stats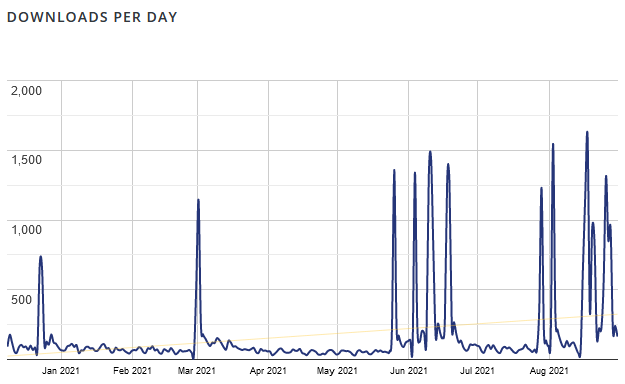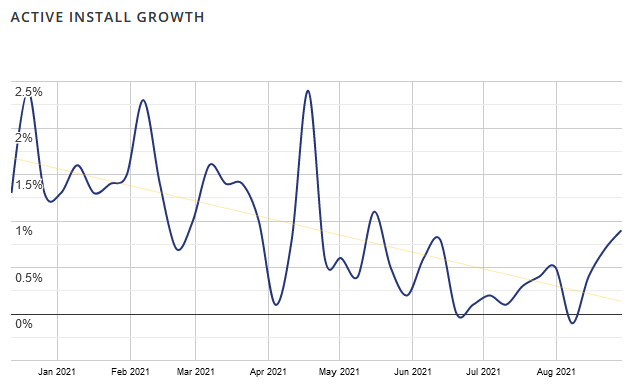 Mailing List Stats
Stats from my MailChimp mailing list.
Website Visits
Stats from my site's Koko analytics (don't need no Google Analytics, thank you!)
Freemius Stats
Freemius gathers other stats about sales and sites using the plugin.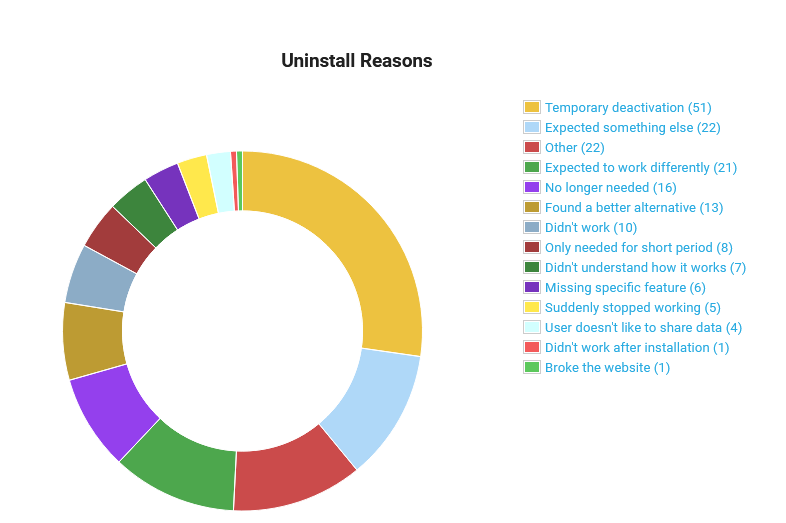 Business Stats
Hours:

108.75 (+2) support
158.25 (+7) marketing
401 (+12) development
68 (+4) management

Expenses (Opportunity Cost): $27397.30(+$940.80)
Expenses (Out-of-pocket) $105(+$0)
Income: $2,609.26 USD (+304)
Overview of What's New
The Details
100th Release and 100,000th Download
PMB 3.4.7, released August 27th, 2021, was the 100th release I've made of PMB in a bit over 2 years of work. Coincidentally, sometime during this month there was also the 100,000th download. I think both are things to celebrate, so 🎉!
I suppose the fact both happened this month actually isn't a huge surprise: the count of "downloads" includes every time a site downloads the updated plugin. So plugins that have more releases will get updated more frequently and so have more downloads. This month I released 7 new versions of PMB (all minor bug fixes) so there were also lots of downloads.
Anyways, it's a milestone worth celebrating! But I admit it's not the milestone I'm especially looking to achieve: 5,000 active installs.
Experiment Removing Freemius' Opt-In Screen
Active install growth has slowed since I introduced Freemius and PMB Pro (lest this be taken as a criticism of Freemius, my email list and income shot waaay up). My pal (and competitor) Ferran gave me the idea of deactivating Freemius' opt-in screen. Vova Feldman from Freemius showed me how to do that, so I thought I'd do a little experiment. I removed the full screen opt-in screen users used to see when the plugin was activated.
I planned to just do it for two weeks to see what effect it had. From what I can tell, since August 20th, it's had a significant impact on active installs. There was about double the active install growth as compared to the previous month.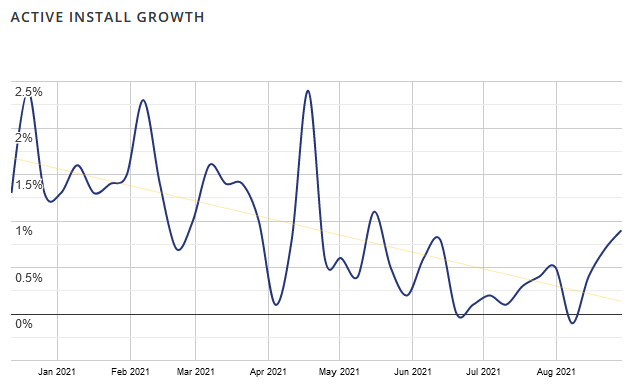 Conversely, my email list growth basically stopped. Likewise, I don't have as much data on my users (like PHP version, WordPress version, and… whatever else Freemius reports on, none of which comes to mind.) I'm not distraught by that. I don't think I really need that data on every user, just a sampling is useful enough. So I may re-add a more discrete opt-in message (like a notification, or a footer message). We'll see…
Bugfixes Galore!
The 7 releases this month nearly all focused on minor bugfixes. You can, of course, read the changelog, but here's some highlights:
Improved hyperlinking and footnotes
PDF-built-in table of contents simplified (it matches the table of contents page)
Fix dates in Quick Print
A security fix (found by WPScan) that allowed unauthenticated to deactivate the plugin
Allow using shortcodes in title page content (eg title, subtitle, coverpage preamble, etc)
So most likely if you haven't noticed any problems related to any of this, I suppose you won't notice the change. But if you did, I hope you'll be happy with the fixes.
Thinking Out Loud
Clarification: I Still Love Freemius
So the big development this month was turning off Freemius' opt-in screen seems to have nearly doubled active install growth. But I don't mean to criticize Freemius! They have been super helpful, and their software is really smart. I highly recommend using Freemius for establishing a viable business plan for plugins!
I may turn Freemius' opt-in screen back on later, because turning it off has had some downsides: my email list growth has nearly stopped, and I won't gather as much data about my users to inform future decisions.
So is turning off Freemius' opt-in screen worth it? I'm leaning towards yes, but I'd still like to re-introduce it in a more subtle way, possibly as a delayed message or something. We'll see.
What's Next?
preparing my WPCampus session (which is coming up September 21 and 22 this month!)
premium designs
ePub support
(Yes, the same priorities as last month… 😣)
Let me know if you have any thoughts!