This is the 8th monthly report for Print My Blog WordPress plugin. This month author-related features were added, image sizing was tweaked, and I began adding front end print buttons for version 2.0.
What Happened in November 2019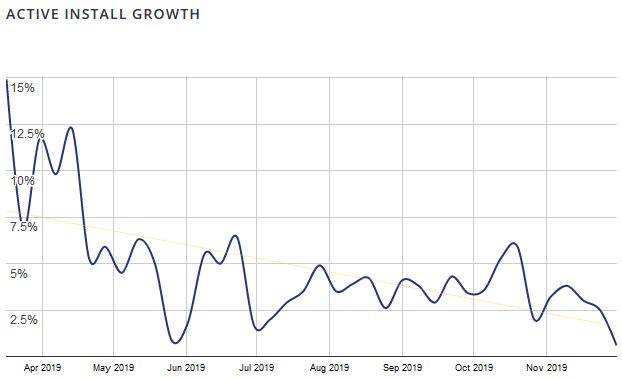 Hours:

33.25 (+2.5) support
47.75 (+3) copy writing
83 (+9.5) development
17 (+4) management

Expenses: $6,214.45 (+$748.13)
Donations: $110 (+$30)
Downloads: 14,764 (+2004)
Active Installs: 1, 156 (+156)
Languages: 3 (unchanged)
Five Star Reviews: 21 (+3)
Releases: 43 (+2)
Overview of What's New
The Details
Author Details and Filtering
The major new feature this month are related to post authors. Since version 1.14.0, you can filter posts by author, so you can have a printout of only posts by a single author. You can also include each post's author in the metadata under each post (alongside other metadata like its categories and URL, etc).
I've thought about this feature for a while, but hesitated to spend much time on it until I received user feedback validating its need. I had earlier received a complaint the feature didn't yet exist, but never got around to prioritizing it. When, USER X inquired this month, and I decided the time for waiting was over.
It took a few hours to develop, and USER X helped test it. Please let me know if you have any feedback on it.
Resized Image Tweaks
This is a continuation of the changes from October, where Print My Blog now defaults to using smaller images instead of full-width ones. When I blogged about it back then I realized a better way of resizing the images: instead of making "half size" images take up half the page width, they should take up half the page height.
I made this tweak to solve a problem with tall images: even though you requested the images be "half width", they could still take up the majority of the page. Compare these before-and-after screenshots: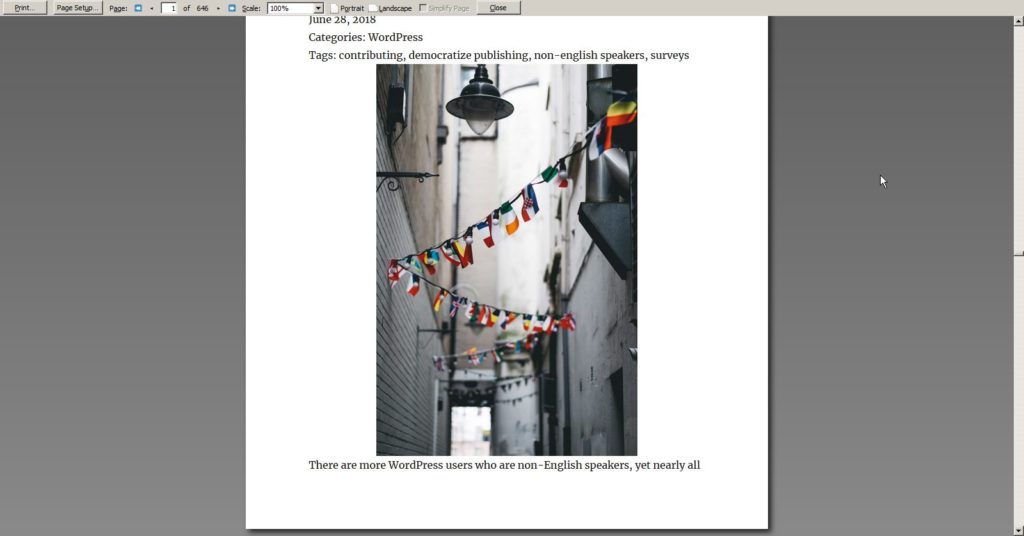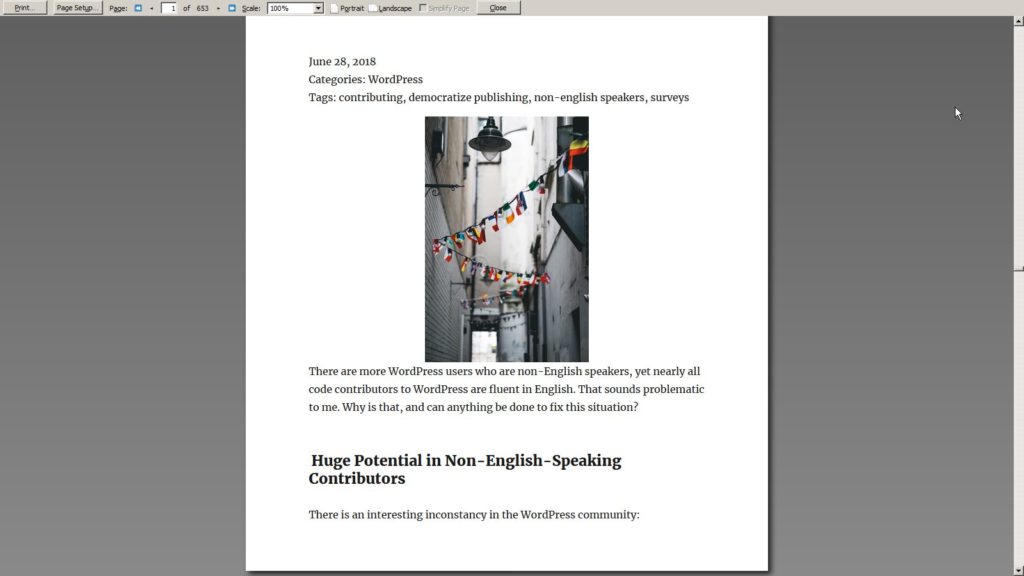 I'm quite pleased with the changes, but have yet to hear from any users about this. So if you have suggestions, please comment or open an issue in the plugin's support forum.
Print Buttons in 2.0
I'm currently working on version 2.0 of the plugin, which will expand Print My Blog into a new niche: providing print buttons for site visitors. If site owners choose to enable the new feature, buttons to print, make a PDF, or an eBook of posts will automatically appear.
Currently, Print My Blog is designed for a site owner to print their entire blog (or at least a portion of it). Although you can add the Print My Blog Gutenberg block to a post or page, that was still geared to printing the entire blog— and I've never received any feedback on that feature, so I'm not sure how popular it had been.
These new print buttons open up Print My Blog's features to site visitors, so they can easily export the post they're currently reading.
This is a new, and much larger, niche. Of the comparable plugins for printing an entire blog, the most popular ones have at most 1000 active installs (Anthologize and Kailin's PDF Creation Station). Whereas plugins that add print buttons onto posts have 50,000+ active installs. So there's a much larger existing demand for this related type of plugin.
What's more, the existing plugins all have some obvious issues:
Print, PDF, Email by PrintFriendly works well, but adds advertisements seen by visitors and has privacy issues (unless you pay)
WP-Print's instructions say to edit your theme's template files, which I think most users aren't very comfortable doing
Print-O-Matic requires your to add a shortcode, which is pretty old-school, and inconvenient when you want the button to appear on all posts.
So I'm optimistic this new feature will help improve Print My Blog's growth once it's released.
Oh, and thanks to Efegenit who suggested this feature and helped BETA test it.
Thinking Out Loud
What About Print My Blog Pro?
I admit the print buttons I just mentioned are a departure from what I planned last month, which was building a pro (paid) version of Print My Blog. Although that's nothing too new: I try to be responsive to users' requests, and so far I think that's been beneficial in terms of active users.
In addition to the print buttons, I may also take some time to actually write a book about Print My Blog… using Print My Blog. More details to follow…
But suffice it to say I certainly do plan to move towards a pro version. There's just a bit of a road to getting there.
Oh and on the topic of money, I got $30 in donations this month! 💰
Fulfilling Its Mission
The stated mission of Print My Blog, that I put on the it's WordPress.org description, is
…to preserve your blog for decades to come in a low-tech format.
And I'm pretty pleased that it's been doing that. One potential user reached out on my blog saying:
Michael, I read your developer comments. I'm trying to print my blogs before I die. I have ALS and my days are definitely limited. Specifically I want to print pages and posts in an order, so they have relevance. Is there a way to do that?

Donald Maclean
This is one of the situations I had hoped Print My Blog could help.
Having said that, the feature Donald was asking for is not yet available, and his blog isn't huge. So I suggested he may have success using Anthologize. (I also hope to compare all the available plugins and services for printing your blog, and make a post detailing their strengths and weaknesses. This will probably be a very good exercise regardless of how much traffic it gets.)
So Print My Blog has a way to go before, but it is serving a real need people have.
How will Print Buttons Fill That Mission?
So, given that mission, how do the new front end print buttons, coming up in 2.0, fill the purpose of helping preserve blogs? The idea is to help build awareness. Many people will probably use the plugin just for adding the print buttons, then become aware they should export the rest of their blog for safekeeping. So the print buttons are a means to spread the message further.
What Do You Say When You Know Your Days Are Limited?
As mentioned above, Donald Maclean has a blog and an illness, and isn't sure how many days he has left. What would you write about if you were in his shoes? (And actually, because nobody knows how much longer we have, we really all are, to a degree.)
Donald states his blog's purpose is this:
I write this for several reasons, primarily to provide for my descendants something I would have valued if it had existed for me, that being a record of the significant events and decisions of my ancestors. I can't think I'm so peculiar that a descendant (or two) would not be like me and yearn for the life experience and thoughts of those who gave us our DNA.

I look at the known history of this Maclean family and find it consists of centuries of names and dates with little description of who they were. Think about the life lessons unrecorded, the wisdom lost; I don't accept that each of us must learn anew what our ancestors learned. I'm convinced some of my perceived mistakes were from not having the experiential knowledge of my generational past.

Donald Maclean
I have very similar feelings. I too hope to leave more of a record for my descendants than what I've found from my ancestors. I've used Print My Blog already for that purpose, and hope others will too.
Rediscovered Reddit
I've given Reddit a second chance this last month, and although it's not the primary Donna of social networks, it seems like a good venue for discussing topics. Other social networks, especially twitter, are focused more on building a following, which makes it hard to have your voice heard before you've built a following. To get noticed on Reddit, you just need to have something insightful to say.
I posted a link to my blog on Reddit, and according to JetPack it led to about 40 more page views (and that was with it only getting upvoted once!) For comparison, Twitter usually gets me at most 10. Getting listed in wpmail.me usually gets around 60 also. So I think Reddit is a worthwhile place to discuss a topic or promote something.
That's It for Now
Comments welcome.