This is the 4th monthly transparency report for Print My Blog WordPress plugin. Mostly I've been responding to support requests and making corresponding small tweaks. There were no major releases this month, but 5 minor ones.
What Happened in July 2019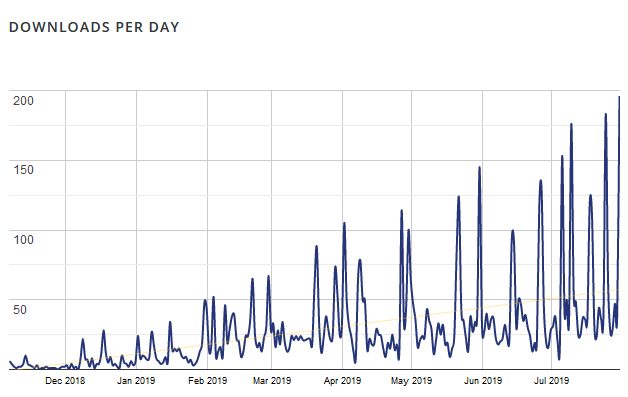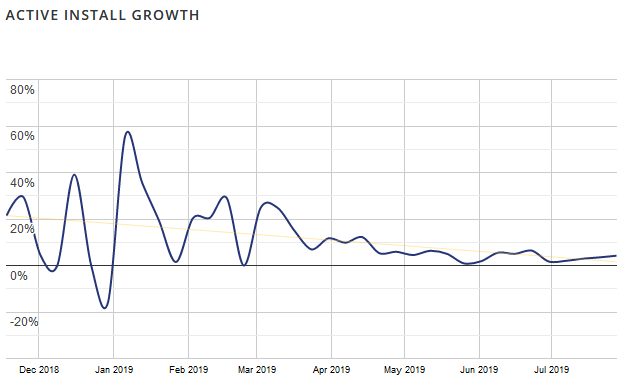 Hours:

22.25 (+3.75) support
28.25 (+2.25) copy writing
62 (+8.5) development
6.5 (+0) management

Expenses: $4108.66 (+519.75)
Donations: $40 (+0)
Downloads: 7618 (+1847)
Active Installs: ~600 (+100)
Languages: 3 (unchanged)
Five Star Reviews: 16 (+1)
Releases: 32 (+5)
Overview of What's New
The Details
User Interface Touchups
While I have a really long list of features I'd like to add (including making my "ask" for donations more prominent) there were also a number of good support issues brought up that I tried to address. In addition to trying to fix the user's immediate issue, I tried to improve the plugin in order to avoid the problem for future users.
In 1.9.3 I added a link to explain how to print to PDF (as user todindiana wondered how to do it, and of a truth it wasn't really explained anywhere) and added link to cancel printout (as suggested by Martha Lindeman, who had an error but wasn't sure how to abort preparing the print page).
In 1.9.5 I added a suggestion to the print page to use the browser's print preview (in response to this support issue where I thought the user thought the print page, which holds all the printout's content, was a true print preview…)
Hopefully these changes will lead to a smoother experience for future users.
Fixed Small Inline Images
If you are printing a web page with large images, often browsers will "chop the image in half" across page breaks in order to save paper. Print My Blog avoids that by wrapping images in div tags that instruct the browsers to avoid that. But one side-effect of this is that the images must take up the entire width of the page.
That seemed ok to me, and I had made a few exceptions for image galleries and emojis, etc. But user Philip Rueker also noted that even small and medium-sized images were taking up the entire page width, and browsers usually do a fine job of not chopping them in half. So I made an exception so small and medium images can be shown inline in printouts fine.
Use More Site Styles
If your theme used custom CSS that relied on the "site" CSS class, it wasn't applying to Print My Blog printouts. That's because I just wasn't adding it onto the top-level div.
In 1.9.6 I added it. Hopefully printouts will apply more of your site's style.
Along with that, it's possible that now you'll have more background colors from your regular site appearing in printouts, so you may want to use your browser's built-in ability to remove background colors. So I also added a FAQ explaining how to do that with Google Chrome, Firefox, and the Firefox Extension Print to PDF.
ePub Printing Difficulties
User alemarcanob was wondering how to create an ePub file from their blog for reading from their e-reader. I had incorrectly thought this would be an easy task with Print My Blog.
There is a free browser extension called dotepub that is meant to convert web pages to ePub and mobi files. Unfortunately, it doesn't work very well with Print My Blog: it just grabs the first post from the printout, and its missing most headings.
I contacted its author to try to resolve the problem. The software analyzes your website and makes a best guess at what content is relevant for a the e-book, and which should be removed (eg site headings, sidebars, footers, etc). Sometimes it gets it wrong, so he suggested I start with a very simple page and add more content to it gradually, trying dotepub each time, to identify what was causing the problem.
I hope to get around to doing that soon, but admittedly it is getting harder to investigate these trickier issues for free. Like dotepub's author, this is ran just by donations, and sometimes you want premium support to get issues resolved in a more timely manner.
Update: I fixed the dotepub integration, wrote about what pushed to me to finally spend the time to figure it out, and how to use it.
Thinking Out Loud
Possible Paid Add-ons
The fund-by-donations model doesn't seem to be producing great results, as most people could have predicted. There's still more I could do to improve it, I think, but my interest in doing so in waning. I'm leaning towards offering the main plugin for free, which will continue to serve the mission of preserving our blogs, and offering paid add-ons for those with more resource-intensive needs. Some ideas so far:
The Happiest Users Giving Poor Reviews
It's funny that I've had a number of rather happy users giving bad reviews. Most recently, Print My Blog received a 2 star review because its missing a feature to show posts for multiple languages. I was quite happy to have the plugin available in another language last month, but that progress might also resulted in an overall lower star rating for the plugin (because those new users want more features)!
The other users who gave a 3 or 4 star review were rather happy, but seemed to be giving a poor-ish review in order to get the features they'd like added.
I try to take these suggestions to heart, despite not being excited about the poor review. Still (gets up on soap box) if folks want a plugin to improve, it's actually more helpful to leave a good review, support the project, and leave a helpful support issue detailing how you'd like it to improve. That's my opinion anyway. (Gets down from soap box.)
Anyways, hopefully I'll get around to adding some more features, and building a more sustainable model future support and development in the coming months. Please leave a comment if you have any suggestions.