"Print My Blog" 2.0 adds the option to place print buttons onto your posts. This lets visitors convert a post into paper, PDF, or eBook for easier reading, sharing, and storing. In this post, I'll show what the buttons are like and how easy they are to add.
Print My Blog does such a good job of presenting blogs in a readable format for site administrators, that users wanted to make those same options available to their visitors.
Take a Look
By default, the new print buttons do not show. Print My Blog was originally intended as just a tool for site administrators to print their entire blog, and we don't want to change the look of your site without you being aware.
But when they're activated, they look like this: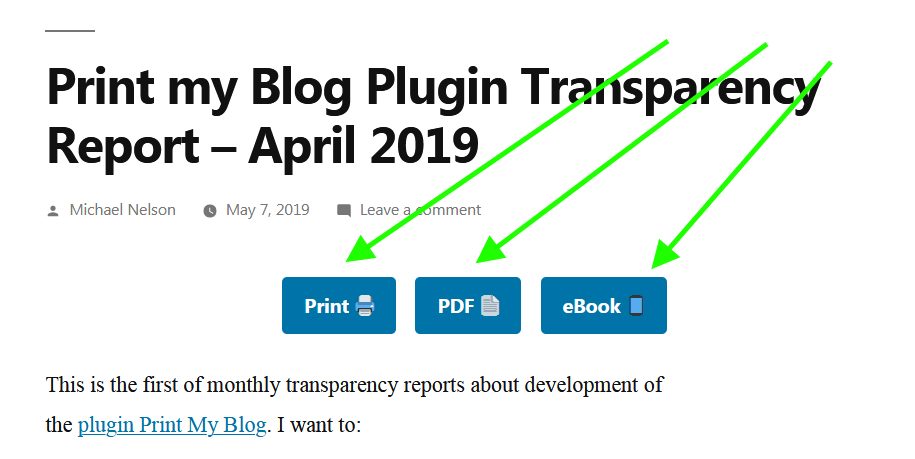 Or this:

Actually, it depends on your website's active theme. Your theme can style them how it likes, as they're basically the same structure as button blocks.
You can customize the text and icon, so easily show them in your site's language, remove or change the icons, or have them only be icons.
You can also choose which buttons to show, if you don't think they're all needed.
If you'd like more customization options, just let us know on GitHub or the WordPress.org support forum.
How To Add The Print Buttons
Many of the other WordPress plugins that add print buttons make setup unnecessarily complex (involving navigating a sea of settings, using archaic shortcodes, or even editing theme files.) Print My Blog makes it really easy.
To activate the print buttons
From the WordPress dashboard (wp-admin), under the menu item "Print My Blog", click "Settings"
Where it asks "Show visitors buttons to print your posts?" add a check mark
Click "Save Settings"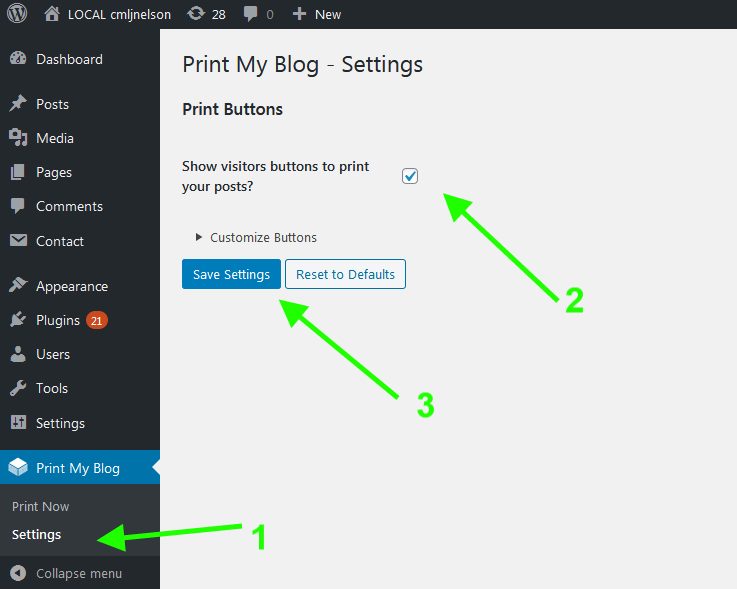 At the top-right of all posts there will now be the print buttons to make a paper, PDF, and eBook copy of the post, just like you saw earlier.
How to Customize Them
On that same Print My Blog Settings page, there are a few more settings. To see them, click "Customize Buttons."
There, you can select which exact formats have buttons: paper, PDF, and eBook. If you'd like to remove one or two of those buttons, just uncheck it and click "Save Settings."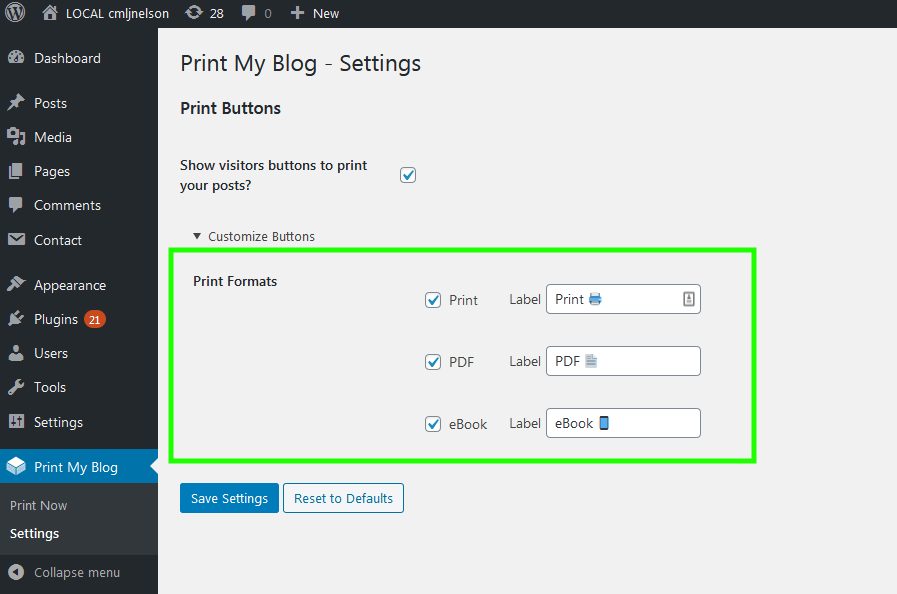 You can also change the text of each button if you like. If you don't want to translate the entire plugin into your language, you can just change the "label" of each format's button. Or, you can change the buttons' icons (the default is just standard emojis) or remove them altogether.
There are currently no options for moving the buttons to elsewhere on the page, or integrating them into your theme. We haven't added them because the default right-hand corner makes the buttons both immediately obvious, but also not more prominent that your post's actual content.
Also, we want to let users indicate it's a priority over other features. So if you'd like more customization options, please let us know on GitHub or WordPress.org support forums.
Why Is This Part of Print My Blog?
Here's a few reasons we've added this feature:
Users requested it
I think Print My Blog is a good-looking and easy alternative to similar plugins
and hopefully this more commonly -sought-after feature will attract more users to Print My Blog, who will then use it to preserve their blog.
What Other Options Are There?
There are already a few good plugins that add print buttons. They all do it a little bit differently, and have different features. If there's a feature one of them has that you really wish Print My Blog had too, again, please let me know.
So having reviewed those, what does Print My Blog offer? It has very easy setup (but "Print, PDF, Email by PrintFriendly" and "WP Print Friendly" do too), uses your theme's styles ("Print-o-Matic" does too), and is free without advertisements (only "Print, PDF, Email by PrintFriendly" isn't), among other things.
What's next For Print My Blog Print Buttons?
Like I've written already, I know these new print buttons aren't perfect. Please let me know if they suit your needs, what more you'd like them to do, and in what ways you'd like to further customize them.
Comments, and not-so-harsh criticism, welcome.